Although winters may be short and relatively mild in the Phoenix area, it doesn't take long for the heating costs to add up. With a few simple changes, you can significantly reduce your energy consumption without negatively affecting your comfort.
Here are a few tips that can help:
1. Set Your Thermostat
Back at Night Keep your thermostat at your ideal temperature during the daytime, then reduce it by 10 to 15 degrees at night. A cooler room tends to be easier to sleep in, and with winter blankets or comforters, you can stay as warm as you want. A programmable or Wi-Fi thermostat (such as a Nest or Ecobee) makes this process easy, changing the temperature automatically according to your schedule.
2. Set Your HVAC Fan to "Auto"
In the summer, setting the HVAC fan to the "On" position can help to keep cool air circulating, but in the winter, it can lead to unwanted drafts. Change the setting from "On" to "Auto" so that the fan runs only while the heating system operates. This ensures that only warm air will flow from your HVAC vents.
3. Change Your Air Filter
If your furnace or heat pump has to push air through a dirty or clogged air filter, it will have to work harder to keep your home comfortable. Check the filter every month and replace it as necessary. Most fiberglass filters will last about three months before they have to be changed, while pleated or high-efficiency filters can last six to 12 months.
4. Reverse Your Ceiling Fan
During normal operation, a ceiling fan pushes air downward, making those in the room feel cooler while helping to circulate cool air from the air conditioning system. In the winter, the heated air from your furnace will naturally rise, making your home feel cooler as you get closer to the floor. Reversing your ceiling fan will draw air up, forcing the heated air out toward the edges of the room, then back down to the floor.
5. Seal Drafty Windows
Add curtains, shades, or heavy drapes to your windows and close them at night to keep your heated air inside for longer. During the daytime, open the curtains to allow the sun's heat to stream in on the south and west, warming your home naturally. If your windows are especially drafty, consider sealing them with new caulk and weatherstripping.
6. Add Insulation
With its hot, arid climate, many homes in Arizona are not properly insulated for the cold. Bringing your insulation up to standard can help you save energy year-round. For example, you can have insulation blown into your attic or rooftop crawl space. This will keep your home warm in the winter, but perhaps more importantly will save you money on cooling during the summer.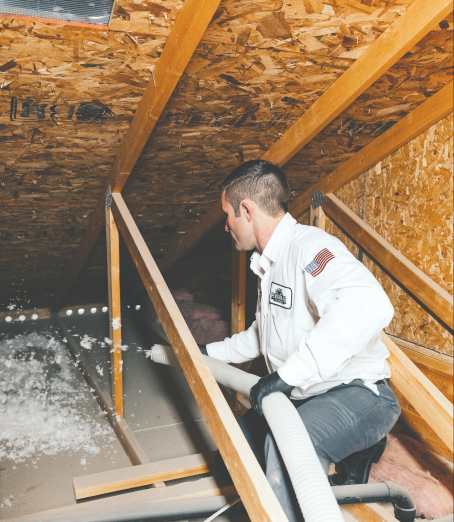 7. Schedule Heating Maintenance
One of the best ways to save energy in the winter while improving your comfort is with annual maintenance for your furnace or heat pump. When your heating system is routinely inspected, cleaned, and serviced by a professional technician, it will heat your home more effectively and use less energy. Most HVAC manufactures recommend having a professional tune up twice a year.
Save Energy with Heating Service From Penguin
At Penguin Air, Plumbing & Electrical, we offer heating maintenance and repairs throughout the Phoenix area. We recommend scheduling your annual tune ups twice a year, once in the fall or winter for heating and again in the early spring for cooling. If your heating system is more than 10 or 15 years old, a heat pump or furnace replacement is another way to boost your efficiency. New heating systems offer significant energy savings over previous models and great features like two-stage heating, variable-speed blowers, and zoning systems that can maximize your efficiency and comfort. Additionally, several new Federal Tax Credits went into effect in January 2023. These credits can save you up to 30% of a new heating system if you qualify.
Cut your energy costs and keep your Phoenix home comfortable this winter with help from our skilled, professional HVAC team at Penguin Air, Plumbing & Electrical.
Call us at (480) 494-2289 or contact us online at penguinair.com to schedule heating maintenance, replacement, or repairs in the Phoenix area.